Six students from Jenin and Tubas schools win the draw logo
2019-07-04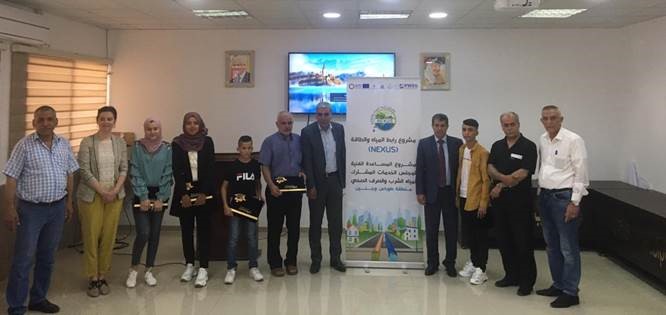 Palestinian Wastewater Engineers Group (PWEG) organized a water and energy "Logo Competition" within Nexus North Public Awareness Campaign funded by AFD and EU in Jenin and Tubas governorates., 400 students participated at the competition from different selected schools in the two governorates, six students have own the competition, The commotion was coordinated with the Ministry of Education in Tubas and Jenin Governorates.
There were some awareness meetings made at the schools to explain about the project and the competition objectives and output, these were made before the competition starts and helped give the students a good background about the project and the campaign. To mentioned that these meetings were made in both governorates in collaboration with the education directorates and schools' principals these meetings helped the students to draw appropriate drawings for the subject and its objectives. The competition has lasted for two weeks, through this period the art teachers have properly and continuously supported the students to ensure the production of drawings suitable with the message of the campaign and the importance of the project.
PWEG public awareness experts set up some internal committees in each school, these consisted of the school principal and the teacher of art education as well as the heads of the school health department.
The competition took place in the schools of Jenin governorate which are, Khalil Al-Wazir School, the First Silat Al Harthiya School, Sumaya Bent Al Khayyat School, Al Khansaa School and the Schools of Tubas Governorate are; Al-Biruni for Boys, Nabaheh Al-Masri for Girls, Aqaba Elementary School, and Tayasir Girls School.
Last week, PWEG held a closing ceremony in Tubas Municipality Hall to present the results and the prizes to the six winners, many people and stakeholders participated at the ceremony within which the followings: Education Departments of the two Governorates of Jenin and Tubas and their administrative staff, the Joint Service Councils of Tubas, in addition to the representative of AFD.
In addition, this project is the first of its kind in the Palestinian territories in the service area of the Joint Services Council in Tubas and the Joint Services Council for the villages of West Jenin and it works on improving the water and sensation services for over than 115,000 citizens by relying on renewable energy generation from windmills and photovoltaic systems.